Description
Primary product's quality is our goal, we always try our best to research for the BEST products to serve our valued customers.
General characteristics and productivity of Auto Duct Line 2 equipment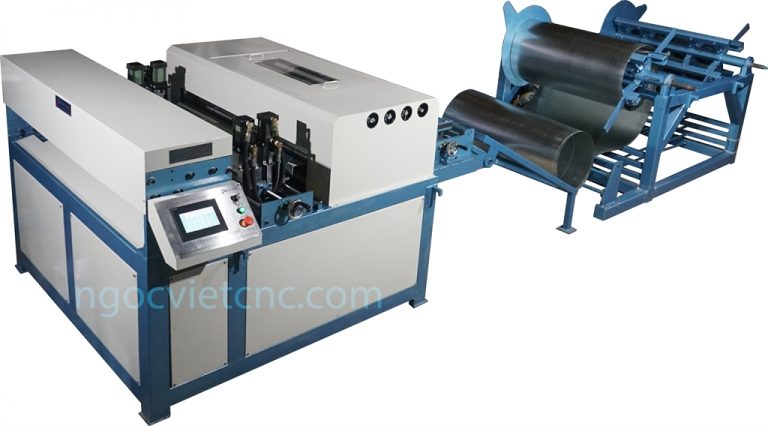 Autoline II automatic rectangular wind pipe production line (Autoline II automatic rectangular wind pipe production machine) is one of the research achievements of Ngoc Viet Manufacturing and Trading Co., Ltd. We are proud to be the first manufacture and trade enterprise with automatic wind pipe production line in Vietnam.
Functions:
1. Pulling tole system
2. Straighten tole
3. Tendon rolling
4. Cut the angle and cut off the sheet.
Whole system are advanced by us to operate simply, fully automated and provide stable production performance and high accuracy in product size. This machine especially save maximum human resources.
Auto Duct Line 2 is manufactured by the most advanced technology with hardened and polished SKD steel hydraulic cutting system to achieve absolute rigidity, durability and precision. The central controller for the head of the chain is the Mitsubishi PLC controller supplied by the leading manufacturer in Japan.
The tole support is designed with high tensile steel, ensuring the tole support is fixed and minimizes unintended incidents, each with a lifting capacity of 5000kg.
Production line of ventilation pipes working at a maximum speed of 15m / min. Tolerance for length is ± 0.5mm, diagonal tolerance is ± 0.8mm.
Structure and workflow
Structure of Automatic Ventilation Production Auto Duct Line 2
| | | | |
| --- | --- | --- | --- |
| No. |   AUTO-DUCT-LINE-2 MACHINE | UNIT | QUAN. |
| 1 | Rulo roll  tole | Piece | 02 |
| 2 | Rulo compressed Tole | Piece | 03 |
| 3 | Rulo rolled the ribs | Piece | 02 |
| 4 | Angle cutting mold and hydraulic ben | Set | 02 |
| 5 | Cutting machine | Set | 01 |
| 6 | System of position sensor sensol system | Set | 01 |
| 7 | Yaskawa or Mitsubishi AC servo motor | Piece | 01 |
| 8 | Hydraulic power | Set | 01 |
| 9 | PLC Mitsubishi | Set | 01 |
| 10 | Ghost Mitsubishi screen | Piece | 01 |
| 11 | Machine body | Piece | 01 |
1.    Tole support coils.
Tole support coils always fix the rolls of material during the roll-off process, designed to facilitate the adjustment of the size of different materials. Material fixing system is made of SDK steel, which is tempered and heat treated to create durability and stability; Includes 4 rolls, each roll has a capacity of 5000kg. It is equipped with the PARMA1100W Motor, gear reducer, and electronic control system to identify the roll release or winding. The sheet metal surface has a very good protective effect to avoid the damage of the burring phenomenon.
2.    Main machine (Autoline II)
Autoline II includes a frame, straightening system, ribbed, cutting angle and cutting off system.
The straightening system is designed according to the structure of today's modern straightening technique, working with 3 rolo straightening. This system made of tempered SDK steel, heat treatment, electroplating and other technical processes. Its good surface characteristics, hardness, deflection, surface roughness and other mechanical properties are improved much better, which role an important condition to play on the flatness of the surface from one rolo to another.
Ribbed rolling system located behind the straightening system, can be freely adjusted according to the width of the material. Changing the below mold is very convenient, necessary to create different angles and shapes just by changing the cutting below table.
After being completed rolling tendon, the material will go through the angle cutting system to run flanges and fold.
After being cut to the corner, the sheet material is moved to set the length, restraint then cut to the preset size. The cutting is carried out automatically by hydraulic cutting system, the cutter is made of hardened steel SDK and heat treated to extend the life of the device, work efficiently and achieve the highest accuracy.