Description
THE FIRST AND THE ONLY MANUFACTURER IN VIETNAM
Autoline V automatic rectangular windpipe production line (Autoline V automatic rectangular windpipe production machine) is one of the research achievements of Ngoc Viet Manufacturing and Trading Co., Ltd. We are proud of being a production enterprise export and trade the first automatic windpipe production line in Vietnam.
Formerly, when Ngoc Viet CNC had not brought forth Autoline product lines, Vietnamese enterprises had to import quality machines from US manufacturers at a high cost. Later, Chinese manufacturers also launched low-cost products but product quality is not high, life is short. Operation and maintenance costs of this type of machine are too grand. Even after a few years of using the cost is greater than buying and operating fee compared to models from the US.
Gather people who are passionate about manufacturing, researching, after many years of studying and working with experts from the US and UK … Ngoc Viet Manufacturing & Trading Co., Ltd. is proud to be the first and only manufacturer in Vietnam. Nam has enough potential and experience to produce Autoline automatic windpipe production line.
We are always aiming for quality according to international standards, comparable to the products of the US and Japan. In 2016, Ngoc Viet Manufacturing and Trading Co., Ltd is proud to be certified by European standard enterprise quality system – Interconformity as an enterprise with an international credit rating.(https://youtu.be/2tnDQU7aHPg).
In addition to product quality, customers come to us because of the many incentives in terms of price. Our products are directly produced and traded in Vietnam, therefore, the price will be very acceptable and competitive with all products at equal quality. We also have a professional warranty as well as maintenance and technical advice to serve customers purchasing Ngoc Viet CNC's products.
ABOUT AUTOLINE V PRODUCT
Layout diagram (including 2 types: Straight and U type)

Autoline V arranged straight lines (proper for long narrow factory areas)
Autoline V designed U (suitable for short and wide factory space)
Work diagram

General introduction and working system.
Autoline V automatic rectangular windpipe production line (Autoline V automatic rectangular windpipe production machine) is one of the research achievements of Ngoc Viet Manufacturing and Trading Co., Ltd. We are proud of being a production enterprise export and trade the first automatic windpipe production line in Vietnam.
Autoline V is the most advanced automatic windpipe production line nowadays that fully automatic from the process of dismantling materials (tole) of the supporting coil until creating a square or rectangular ductwork.
Include:
2 rolls for tole, in which 1 roll for tole including 2 supports with a maximum tonnage of 5 tons..
2 rolo scissors, 3 rolo straightening, 2 rolo rolling hardening ribs.
The hydraulic cutter set made of SKD steel is hard, polished that is to increase accuracy.
Single seam and bond seam running system (American seam)..
Encoder counts position for high accuracy and speed.
The robot system is controlled by a motor AC Servo Yakawa (Japan) that move materials accurately.
Hydraulic power source.
CNC control system (There is an introduction written in Vietnamese developed by Ngoc Viet CNC).
Autoline V operates with great performance, simultaneously with size accuracy as well as high working speed up to 15m / min. It is possible to create small windpipes with a cross-sectional area of ​​20cm x 20cm.
Working conditions
Autoline V can work continuously, stable for a long time under the following conditions:
AC 3-phase 380V (220V) current ± 10%, 50 / 60Hz ± 10%
Ambient temperature: 0 ~ 40ºC
Suitable humidity: 55 ~ 85%
Constructing of Autoline V system
Autoline V system consists of 2 types: straight and U. These two machines differ only in the arrangement of machine components and materials moving to suit the customer's factory space. Below we describe the system components and operating processes of Autoline V straight type which are in common use today.
1. Support tole roll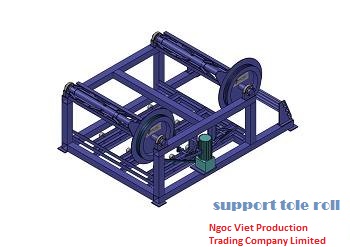 Tole support coils always fix the rolls of material during the roll-off process, which facilitate the adjustment of the size of different materials. The material fixing system is made from SDK steel that is tempered and heat treated to create durability and stability. It includes 4 rolls, each roll has a capacity of 5000kg. It is equipped with a 1500W AC Servo motor, reducer, and electronic control system that is to identify the coil release or coil collection. The metal apron is very firmly avoiding the damage of the edge phenomenon.
2. Main machine (Autoline II)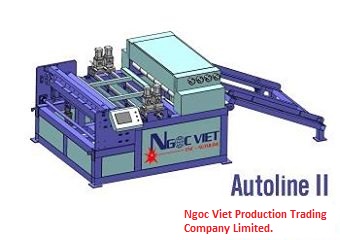 Autoline II includes a frame, straightening system, ribbed ginning, angle cutting and cutting-off system.
Straightening system is designed according to the structure of modern straightening technology, working with 3 rolo straightening. The main machine is made from tempered SDK steel, heated treatment, electroplating and other technical processes. Its good surface characteristics, hardness, deflection, roughness surface and other mechanical properties are greatly improved. These properties have an important role in the flatness of the surface from one rolo to another.
Because being located behind the straightening system, the ribbed rolling system can be freely adjusted to match to the width of the material. Changing the lower mould becomes very convenient and necessary to create different angles and shapes just by changing the cutting table below only. Power is supplied by hydraulic compression system.
After completing ribbed ginning, the material will go through the angle cutting system to run flanges and fold seam.
After finishing angle cutting step, the sheet material is moved to set the length, clamped back and cut to the pre-set size. Cutting is done automatically by the hydraulic cutting system with the cutter is made of SDK steel, hard and heat-treated extends the life of the tool and can be changed quickly and adjust the cutting range conveniently.
Transmission frame.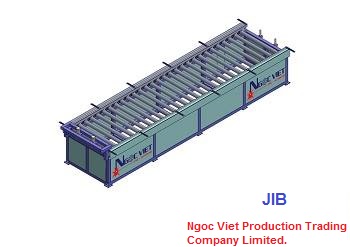 Transmission frame includes machine frame, transmission rollers, material clamping system and drives system. When the cutting plate is cut to the specified size, the rollers move it to the next system to continue processing. The material clamping system used for creating a grip between materials and rollers support its strength to move.
Create a lock (create Pittsburgh) (Create double seam)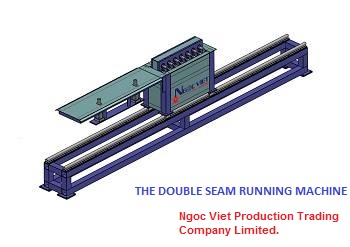 After the material board has been positioned to stay in place running the lock, the locking system starts to move. When the wheels run through the material, the lock is formed. Afterwards, the cylinders repel the system back to the original position to perform the next cycle.
TDF collar creation and clamping system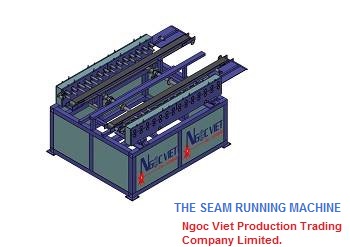 The TDF double collar running system consists of 2 sets, each with 14 rollers running parallel to each other. Heat-treated GCr15 steel rollers have surface hardness up to HRC = 58 ~ 60. The width is adjusted by the steering wheel while the rollers operate thanks to the engine and the axles, both sides work in sync with each other. The plate is driven into the double collar running system through the front rolo drive. Two collars are formed after passing through the double flanged system. In the next step, the material sheet continues to be driven to another system for continuous crowning..
Robot hand-held material frame
It includes chassis, guide rails, mechanical robot arms and drive belt devices. Its role is to bring the material after being collar running into the hydraulic cracking system. The robotic arm clamps the material and pushes it into the folding machine in an organized order that suitable with the size of the duct produced.
Automatic hydraulic folding system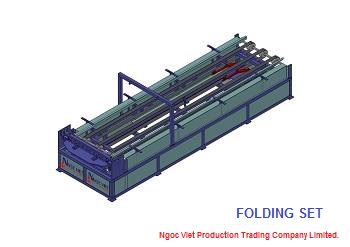 The automatic hydraulic folding system is the final system in Autoline V. windpipe production line. This system uses an oil cylinder to operate with a compact structure and well effective folding. Absolutely, the folding manner is guided by the electrical system.
Electronic control system
The electronic control system of the central processor is an imported product of PANASONIC, Japan.
The electronic control system of the central processor using Japanese PANASONIC electrical production of programmable controller, and drive device using German BOSCH REXROTH fully automatic and AC system. Particularly, the SAMKOON induction screen, which have a high-resolution of a human-machine interface, is equipped with 10 executives levels. Each level is outfitted with complete and independent functions that assist to access the work conveniently.