Description
NOVI 5000F CNC Plasma Cutting Machine is an improved product of NOVI 5000B, with cutting speed significantly improved up to 20m / min. The quality of the cutting line is sharp, precise, very simple to operate, therefore not all cutting machines achieve the same quality. That's why the customer should purchase our NOVI 5000F CNC Plasma Cutting Machine.
The outstanding features of CNC Plasma Cutting NOVI 5000F
Video about our Plasma cutting machines performance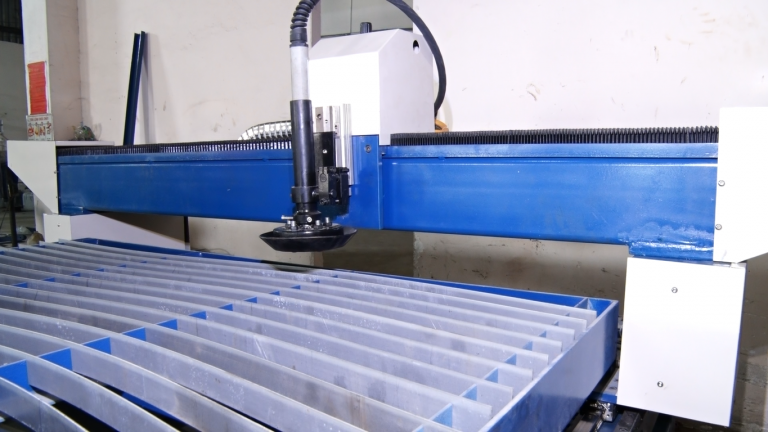 Some pictures of CNC machines.
| | |
| --- | --- |
| Repeatability tolerance of 0.01 to 0.1 mm. | With a pair of adjustable cylinders, it moves up and down. |
| Friendly icons. | |
| Easily increase or decrease the ratio. | Peculiar wings for cleaning, arranging and cutting stainless to limit dust under metal sheets. |
| Image feedback. | The set of developing windpipes is plentiful. |
| There is a memory for plate slab | There are fitting sets displayed in 3-D and storing fitting sets used in |
| Adjust automatic cutting acceleration. | Welded steel pipe frame has special rigidity and stability. |
| Cutting speed has been set separately with different cutting orbits. | Line and x-axis linear bearings. |
| Rotary encoder and cutting position information feedback. | Sieve guide y-axis is polished. |
| Safety electromagnetic sensor switches, emergency stop button fitted as standard. | Grounded and hardened with 40mm diameter. |
| Very high precision cutting quality to all kind of entire thickness of the cutting material design. | Other parts touch high quality and sustainable operation. |
| Japanese cutting head and cutting unit. | |
CNC Plasma Cutting NOVI 5000F is a standard plasma cutting machine with compact size and economical price. Not merely a machine, it is a work of artistic design. Owning NOVI 5000F CNC Plasma Cutting Machine is a competitive advantage of your business.
Strength and stability
The machine is constructed of thick steel frame with integrity structure, we accept to design the machine at a higher cost to be confident that: "No CNC Plasma Cutting Machine in Vietnam today can compete. power with NOVI 5000F ". With a solid frame structure increases stability as well as longevity and reproducibility.
Technology and creativity
NOVI 5000F CNC Plasma cutting machine does not apply belt technology but it is equipped with gears bar and gears. Unlike other Chinese products or other manufacturers in Vietnam using belts, our new technology allows traction of up to more than 2000 pounds while the machine still runs smoothly.
Power and accuracy
The special and advantages of CNC cutting machine NOVI 5000F plasma are using AC Servo Yaskawa motor. The Y-axis of the engine is fitted with a long steel beam that horizontally travels along the cutting table, and is pulled by the travel system by the rack and pinion. This ensures regularity, accurate in millimetres-level and flexibility of the cutting torch. Plasma cutting machine Plasma NOVI 5000F using a cutter with the latest technology can cut ordinary materials up to 20mm thick, gain cutting speed up to 20m / min. Therefore, y products are sharp and precise to each mm as planned from the control system. So owning a NOVI 5000F plasma cutting machine will significantly increase the productivity and save a lot of effort.
Fast warranty policy 24/7
Buying a Plasma CNC cutter from abroad there will be no quick service as we supply. With a warranty system throughout the country, we are committed to the quality of warranty and maintenance is the best and fastest.
All of these upgrades make it easy and comfortable for the operator to operate the machine lead to increased efficiency, which increase productivity for your business.
Please contact us for more information, see products at the factory and get a quote for Plasma CNC NOVI 5000F.